House minority leader Hakeem Jeffries, an Aipac ally, said he 'vigorously endorses' Omar's re-election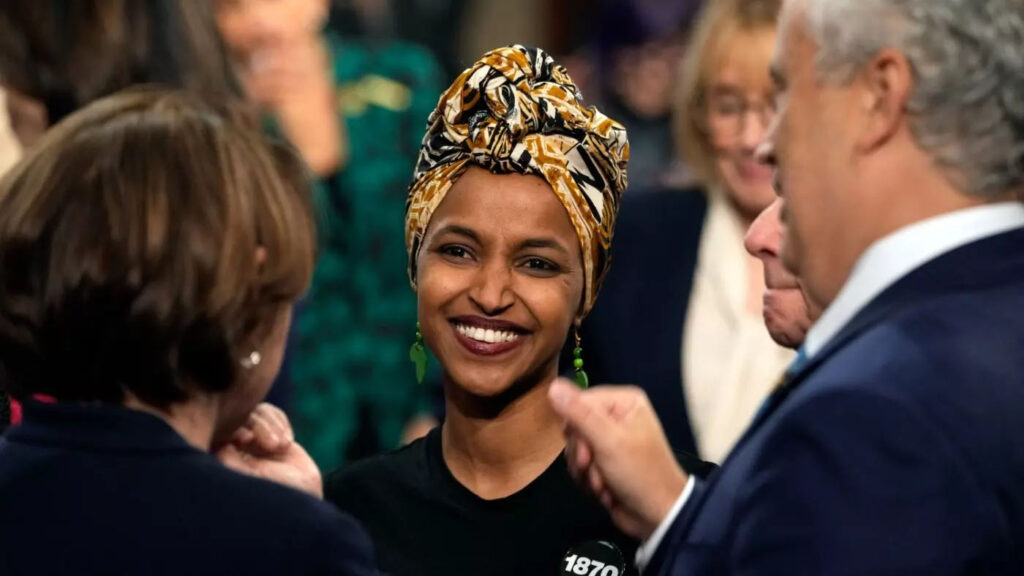 In statements given to Politico, House Minority Leader Hakeem Jeffries, Minority Whip Katherine Clark and other top Democrats Nancy Pelosi, Steny Hoyer and Jim Clyburn all stated their support for the progressive lawmaker from Minneapolis.
"[Representative] Omar has been elected by her constituents three times and has consistently stood up for them, including through her service on the House Budget Committee," Jeffries said in a statement to the newspaper.
"As House Democratic Leader, I vigorously endorse her re-election and stand with her as we battle Extreme MAGA Republicans for the future of our nation", he added, referring to Republicans in support of Donald Trump and his "Make America Great Again" campaign slogan.
Omar said in a statement that she was "proud to have earned the respect and support of every single member of the Democratic House leadership for my re-election campaign".
While it is routine for House leaders to back incumbent candidates, Jeffries' announcement is significant given his ties to the pro-Israel lobbying group, Aipac.
Earlier this month, Jewish Insider reported that Aipac was recruiting a slew of candidates to challenge members of the "squad" – a moniker for a cadre of progressive lawmakers who came into office at the turn of the decade. According to the report, the list of targeted incumbents includes Ilhan Omar and Jamaal Bowman.
The same day that report came out, Aipac posted a video on the platform X, formerly known as Twitter, of Jeffries on an Aipac-sponsored trip to Israel, in which the Democrat leader discussed the "ironclad commitment to the special relationship that exists between the United States and Israel".
Jeffries has previously supported Bowman and Omar, who have drawn the ire of Aipac in the past with their criticism of Israel and its treatment of Palestinians.
His political action committee gave $5,000 each to Bowman, Omar and Congresswoman Cori Bush, also a critic of Israel, in 2022.
A spokesperson for Jeffries told Politico that the House minority leader intends "to continue his practice of supporting the re-election of every single House Democratic incumbent, from the most progressive to the most centrist, and all points in between".
During the last congressional primary election, the Aipac-affiliated super political action committee United Democracy Project (UDP) spent $350,000 to boost a top Democratic primary challenger against Omar.
The endorsement of Omar also comes after a political crisis for House Democrats earlier this summer. In July, just days before Israeli President Isaac Herzog was set to visit Washington and deliver an address to a joint session of Congress, House Progressive Caucus Chair Pramila Jayapal called Israel a "racist state".
Jayapal's remarks were quickly picked up and condemned by Aipac, as well as Democrats and Republicans. Within a day, she issued a retraction and apologised for her comments.
Then, in the same week, the House passed a non-binding resolution stating "Israel is not a racist state" in a 412-9 vote.
Palestinian organisers told Middle East Eye at the time that the course of events revealed a growing divide between the Democratic base and progressive members of Congress on the one hand, and the pro-Israel Democratic leadership who refuse to accept any criticism of Israel to enter the halls of government, on the other.
Source: https://www.middleeasteye.net/news/democratic-leadership-backs-ilhan-omar-primary-threat-pro-israel-groups?utm_source=facebook&utm_medium=social&utm_campaign=Social_Traffic&utm_content=ap_923no0vic3&fbclid=IwAR3cSffRd6nPMZZYjwXfFf2yc5gLg6KOqL9xBMwjgK5X8-qOUYslwrHq3uc