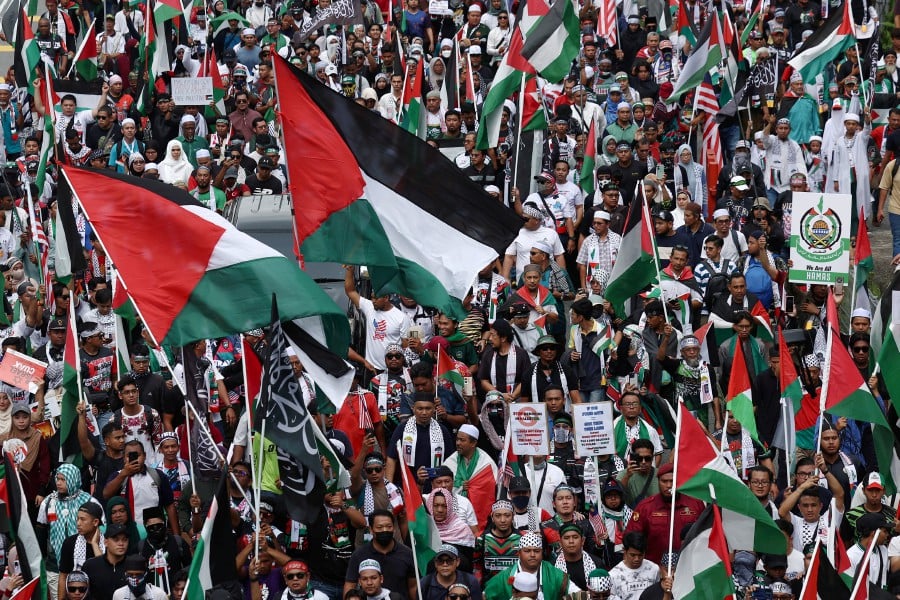 KUALA LUMPUR: The Palestinian ambassador to Malaysia has commended the public's commitment to boycotting businesses and products allegedly linked to Israel.
Ambassador Walid Abu Ali emphasised that the measures taken by Malaysians play a significant role in increasing awareness and expressing a resolute stance against what he referred to as Zionist oppression.
"Any measures supporting Palestine and its people are deeply valued. The boycott of Israeli products and franchises supporting Israel serves to minimise the suffering of Palestinians.
"Whatever is done in Malaysia towards all those (businesses) who support Israel is very appreciated," he told reporters when met at the embassy here today.
The call for boycotting Israeli-affiliated products was initially led by the local community, with comprehensive lists disseminated on social media.
They include many household names, such as Coca-Cola, and IBM, with alleged Zionist links. Food and beverage franchises like KFC, McDonald's, and Starbucks have also been identified as pro-Israeli sympathisers.
Walid also called on Malaysians to continue their efforts in spreading awareness about the ongoing war crimes between Israel and Palestine, especially through boycotting.
"I encourage Malaysians, Palestinians, Arabs, Muslims, and anyone upholding human rights and democracy to engage in the minimum action of boycotting products supporting Israel.
"If you go and buy a Starbucks coffee, you indirectly support an Israeli soldier shooting or killing a Palestinian.
"Similarly, when you go to McDonald's and you buy a cup of coffee or take a hamburger, you are actually supporting Israel," he said.
Walid expressed confidence that these public efforts will have an initial impact on Israel's current economy.
"Israelis benefit from numerous global brands, but recent economic effects over the past three weeks suggest they are vulnerable.
"This could exert pressure on the current Israeli government, which has been accused of engaging in acts of terrorism against Palestine, compelling them to recognise the economic consequences of their actions," he added.
Source: https://www.nst.com.my/news/nation/2023/11/974507/malaysians-boycott-israeli-linked-businesses-earns-praise-palestinian?fbclid=IwAR1XnBwaJkd-oppuJuHKmP4nRy8hjT00o8C8LswT-DGJqnR9d3NJPRx06BE#google_vignette