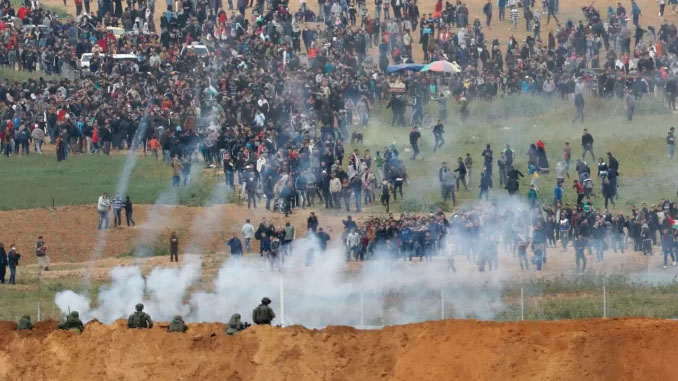 By Ramona Wadi
A late commemoration of World Humanitarian Day in Gaza marked not only that the international community considers Palestinians as an afterthought, but also how far removed diplomats are from the politics that created the perpetual humanitarian crisis in the enclave. Diplomats from Chile, Mexico, Spain, Italy, Norway, the UK and Australia went to the Gaza Strip yesterday, visiting sites and organisations which showcased the repercussions of Israel's settler-colonial violence against Palestinians in the besieged territory.
Wafa news agency's report treated the diplomatic visit in the same way that it does with others, almost as if nothing would be known were it not for the sporadic international visits in which Palestine is further removed from the Palestinian people. But diplomats have repeatedly visited Gaza and seen firsthand what Palestinians are living through as a result of Israel's bombs, illegal blockade and insistence on treating Gaza specifically as part of the humanitarian paradigm and nothing else.
Diplomats should at least be honest — a big ask, I know
If the visits, hypocritical as they are, are to be continued, diplomats should at least be honest — a big ask, I know — and admit that they are visiting sites where the humanitarian paradigm will not work precisely because the countries they represent continue to support Israel politically and economically.
How many times are diplomats going to discuss "the need to build and rehabilitate homes and to treat psychological trauma among children and adults" while their governments help Israel bomb those homes and create the children's trauma in the first place? Or "learn about the impact of attacks affecting medical workers and facilities"? It is shameful that the Palestinian Authority's official news agency holds no critical insight, where reports pay more tribute to diplomatic nothings and where analysis is perpetually lacking.
After diplomats ostensibly learn about what Palestinians need — as if there is not enough information in the public domain already — what are they going to do about it? If people who never visited Gaza are conscious of how Palestinians' lives are ruined by Israel's settler-colonial violence, how come diplomats require these carefully curated visits and yet never, apparently, realise that talking about what needs to be done in terms of humanitarian aid will always be lacking if Israeli colonialism is never tackled?
None of the diplomats appear to be capable of articulating the simple fact that Gaza is the reality of what Palestinians have suffered since the Nakba. Why is this, and why are Palestinians in Gaza not acknowledged as refugees who have lived through decades of humanitarian aid with no end in sight for their suffering? If the entire humanitarian paradigm is to be taken into consideration, what respect are diplomats showing humanitarian workers who certainly know that their work, while vital, barely alleviates the suffering that is inflicted on Palestinians by Israel? What do diplomats really think of humanitarian efforts, of humanitarian aid and above all, their responsibility to ensure that the politics generating endless cycles of dependence is eliminated once and for all? Do they even care?
One better way to mark the day would have been to take a stance against UN Secretary-General Antonio Guterres's statement that, "There is no Plan B." As much as the UN hails humanitarian aid as the only option, the paradigm only complements Israel's settler-colonial violence.
Source: https://palresponds.com/the-humanitarian-paradigm-complements-israels-settler-colonial-violence/?fbclid=IwAR38LnbaAuX3NPirQDtMbd3bofWq0cpi822YVxxYEIM66B5XMFUSUfkpu0k