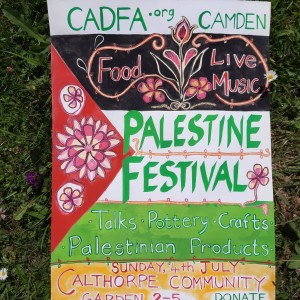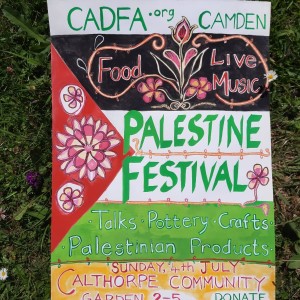 So lucky that after the heavy rainshowers, the good weather held out for a very special event in on Sunday 4th July. There are now nearly eighteen years linking people and organisations in Camden and the small town of Abu Dis in the Jerusalem suburb through the work of local charity CADFA (Camden Abu Dis Friendship Association).
On Sunday CADFA held a joyful summer Palestine festival in beautiful Calthorpe Community Gardens. Friends old and new were happy to meet and enjoy Palestinian food, crafts and exhibits, and special arts activities for children. There were Middle Eastern music and a socialist magician! People very much enjoyed a cooking demonstration in the open air and the chance to share the traditional maklubeh (upside-down rice dish) at the end of the afternoon.
In the current context of Palestine, there are always the lovely and the very difficult. Recently (and not for the first time) a citizen of Abu Dis was shot and killed near an Israeli army checkpoint outside the town. This time it was a young mother and lecturer, Dr Mai Afana. Part of the canopy in the middle of Calthorpe garden became a solidarity tent to echo one that has been put up in Abu Dis to call for the return of her body so the family can bury her (Israel has so far refused). During the festival, there were conversations on Zoom with Palestine, and at one point people sitting among the blossom in King's Cross found themselves talking with her family standing in a demonstration outside the Israeli settlement built next to Abu Dis.
CADFA are collecting signatures on a petition to our Foreign Office to support the appeal for the return of her body (see change.org/returntheirbodies).
The festival marks the rejuvenation of in-person activities for CADFA after the lockdowns. CADFA is an inclusive and welcoming organisation that focuses on human rights and we welcome the participation of young and old – Do get in touch via contact@CADFA.org or @camdenabudis.