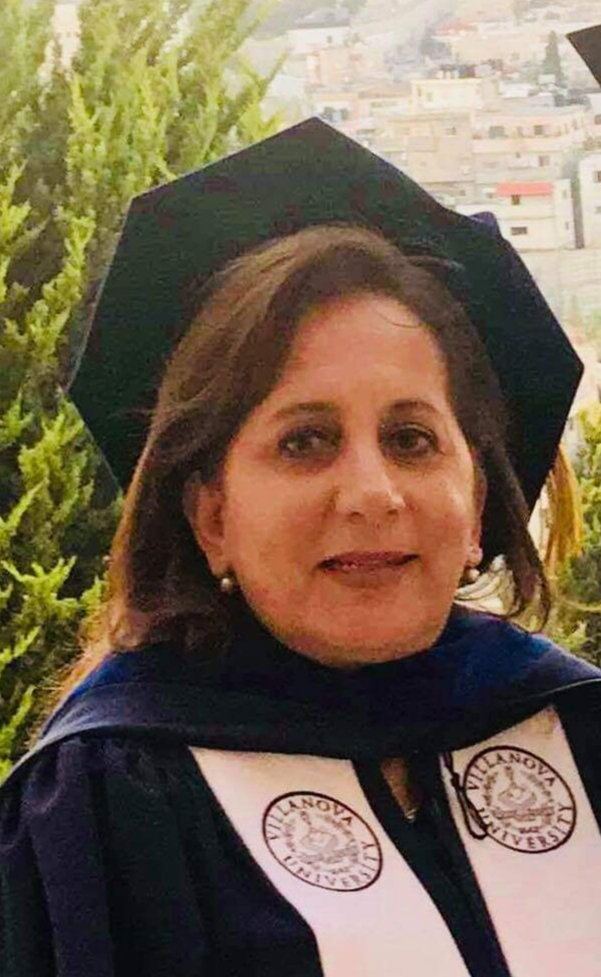 Edited by Kaied Ghiyatha
Dr. Hanan Saca-Hazboun was born Bethlehem and she graduated from the Christian Brothers Secondary School (high school) in 1981. Some of her hobbies growing up were playing the piano, basketball, and learning different languages.

Dr Sca-Hazboun's interest in chemistry, biology and in nursing led her to Bethlehem University, which was a walking distance from home. At BU, she fell in love with Nursing. She graduated from the School of Nursing with honors in 1985.

As registered nurse, Dr. Saca-Hazboun's professional career began at Al Makassed Charity Hospital. She worked at the Hospital's Children's department before she migrated to the United States. In America, Dr Saca-Hazboun passed her CCLEX and continued to work as a nurse. She gained clinical practice experience and expertise in medical/ surgical, orthopedics, and acute long-term units with specialization of long Ventilation care in various hospitals in Sacramento, California.

Dr. Saca-Hazboun's dedication to the health sciences lead to her Master's in Nursing Management from the University of California-Sacramento. After earning her Master's in 1996, she returned to home to work as lecturer in Bethlehem University's Faculty of Nursing and Health Sciences.
The need for more educators with doctorates to elevate the University Faculty of Nursing and Health Sciences, inspired Dr Sca-Hazboun to pursue a PhD degree. She enrolled at Villanova University with a focus on education in nursing. Dr Sca-Hazboun's Ph.D. dissertation investigated women knowledge and attitude toward breast cancer screening.

Currently, Dr Saca-Hazboun is an assistant professor in The Faculty of Nursing and Health Science at Bethlehem University. She lectures in the undergraduate nursing program, where a vast number of students had graduated under her care. All of her students can testify to her knowledge and devotion to their success.

Dr. Saca-Hazboun is not only a tremendous teacher, but a staunch advocate for cancer the rights of cancer patients. During clinical practice, she was involved with oncology patients. She observed the disparities and challenges that face the Palestinian cancer patients care in comparison to the American patients during the course of treatment.
The passion for caring for cancer patients stemmed from a personal experience. In 1993, Dr Saca-Hazboun lost a close friend to cancer. She was impassioned to enroll in organizations which sought to empower the patients and their families as she witnessed the powerlessness of her friend who died without knowing she had the illness.
Dr Saca-Hazboun became a member of both The "Oncology Nursing Society" and the "Multinational Association Society in cancer care." She has been publishing credentials in many referred journals and was co-editor with the Oncology Nursing Society's newsletter "Connect." Dr Sca-Hazboun has been involved in multiple research project, and has presented her studies at national and international Conferences.

Furthermore, Hanan is a member of the National League of Nursing, Sigma Theta Tau International Honor Society of Nursing, oncology nursing society, Multinational association of cancer care. In April 2017, she was inducted in the Phi Kappa Phi (CSUS).
She is also a board member of Palestinian Osteoporosis society since 2006.

Dr Sca-Hazboun is Founder of Al-Maha Cancer foundation, a national non-profit organization. The Foundation was initiated in September 2018 in memory of Dr. Maha Fatho, a well-known midwife and educator at Bethlehem University, who died of advanced stage of breast cancer in 2015. In addition, Hanan is dedicated to improving the health status of women through promotion of breast cancer screening. Her area of research focuses on breast cancer prevention, decision-making around cancer screening. Her aim is to provide awareness and access to cancer screening among rural women.
Her current research interests explore the knowledge and attitude of women toward breast cancer screening, and palliative care.

As an educator and a nurse, Dr. Hanan's philosophy convoluted from the work of Khalil Gibran "think positively, no matter how hard life is. Give much if you've been given little".